Latest Release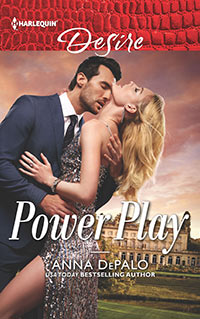 September 2019
The Serenghettis:

Power Play

When the goal is seduction,

Not just any play will do….

Irresistible. That's sports superstar and tycoon Jordan Serenghetti in a nutshell. But Jordan's physical therapist, Sera Perini, must resist. She has good reasons—their families' connections, her professional ethics and a kiss the filthy-rich athlete doesn't even remember. If she gives in to temptation, will it be a replay of Jordan's womanizing ways or something from a brand-new playbook?

After one fake kiss, she's crushing on the sexy CEO--again! Only from USA TODAY bestselling author Anna DePalo!
Teacher Marisa Danieli needs a headliner for her school fundraiser. Her best bet? Cole Serenghetti, former star hockey player turned CEO of his family's construction empire. Sure, she had a disastrous high school crush on the guy, but business is business…
Until it turns into funny business—and posing as a couple. This time, the feelings are red hot and made worse by the fact that Marisa's ex-fiancé is dating Cole's ex-girlfriend! Is Marisa's fundraiser coup about to backfire or is this second chance with the CEO the real deal?
Second Chance with the CEO won First Place in the NECRWA Readers' Choice Awards!
Starred Review "This novel is the first in a series focusing on the hunky Serenghetti brothers, so romance readers should get ready for some steamy adventures, as these siblings are addicted to adrenaline and have sharp eyes for the ladies." – Judy Garner, Library Journal
"This is definitely one to pick up…just so you can enjoy the amazingness." – Harlequin Junkie
"SECOND CHANCE WITH THE CEO is an intriguing reunion romance that I highly recommend. More Serenghetti family stories are coming, and I can't wait." – Patti Fischer, Romance Reviews Today

A fake relationship leads to a real pregnancy! Only from USA TODAY bestselling author Anna DePalo!
To protect her reputation in a dog-eat-dog town, actress Chiara Feran needs a fake fling fast! Turning to the stuntman on her latest movie, Rick Serenghetti, seems like a sure thing. But in Hollywood, things—and stuntmen—are never what they seem. Rick is actually a wealthy movie producer who stunts for kicks. And boy, is he intrigued by this latest role! But he gets more than he bargained for as the line between fantasy and reality blurs. Soon, a very real baby is on the way. Could a marriage proposal be far behind?
"[T]he novel hits a lot of right notes; a fast and fun read." — Library Journal
"With its sizzling sensuality and intriguing characters, I highly recommend grabbing a copy of HOLLYWOOD BABY AFFAIR for a read you will surely enjoy." — Romance Reviews Today
Aristocratic Grooms

A Marriage Most Mercenary?
Sawyer Langsford, Earl of Melton, never let anyone stand in the way of building his media empire. If he had to marry Tamara Kincaid to close a merger with her father, so be it. And though they got along like oil and water, Tamara had her own desperate reasons for signing on to this sham marriage. But when her father upped the ante, demanding that a child come of the union, Sawyer began to see his betrothed in a whole new light!
"An engaging beginning to the Aristocratic Grooms series...." – Jennifer Bishop, Romance Reviews Today
"...strong characters...and sizzling sex make for a strong read under [Anna] DePalo's deft hand." – Pat Cooper, RT Book Reviews


Secrets of the Rich and Royal
Wedding planner Pia Lumley thought she couldn't be more shocked than when the bride's other husband crashed the wedding. Then Pia laid eyes on dashing wedding guest James "Hawk" Fielding--the gorgeous man who took Pia's virginity and disappeared with her heart three years ago. Sexy as ever, the duke of Hawkshire claimed his playboy days were over. And even hired Pia to plan a family wedding.
This time she knew he wouldn't lure her into his bed.
So she lured him into hers. And only then did Pia discover the truth Hawk had been hiding all along....
"One Night with Prince Charming will enchant readers.... [W]ell written, with characters who are strong willed, vulnerable, and sexy! Curl up in a cozy chair, folks, and enjoy." – Deborah C. Jackson, Romance Reviews Today


The Bride Is Married To Me.
Responsible Belinda Wentworth has always been a dutiful society daughter. Except for when she married her family's sworn enemy, Colin Granville, Marquess of Easterbridge, in a quickie Las Vegas wedding—which she annulled hours later.
Or so she thought.
Because just as she's about to say "I do" to a respectable man, impossibly sexy Colin bursts into the church with the news that they're still married. And he takes his vows very seriously. Especially the one about attaining what no Granville has before him: a takeover of the Wentworths. Including his wife—body and heart.
"[Anna] DePalo's wrap-up of her Aristocratic Grooms series is a tempting and fun escapade amidst the rich and mighty, who turn out to be not so different after all." – Pat Cooper, RT Book Reviews

The Whittakers

SHE NEEDED A BABY
. . . and a sperm bank could be Liz Donovan's last chance. But instead of some anonymous donor, Quentin Whittaker was offering to father her child?as long as she married him first. The sexy CEO's whirlwind courtship was setting off enough sparks to start a whole family. At this rate, she'd be pregnant before she walked down the aisle!
HE NEEDED AN HEIR
Making love to Elizabeth was the most exquisite pleasure Quentin had ever known, but forever wasn't part of his game plan. Yet once she had his baby, how could he walk away? Heaven help him, wanted her?in lust, in wedlock and in fatherhood. But was love part of the bargain . . . ?
"Following a doctor's visit, Liz Donovan accelerates her plans to start a family and decides her best choice is a sperm bank. Liz's friend Allison has other ideas, suggesting her oldest brother as the best possible donor. Quentin Whittaker is appalled at his sister's suggestion, but the thought of Liz having another man's baby forces him to face his feelings head on. Anna DePalo's first release . . . leaves readers eagerly anticipating her next book." - Romantic Times, 4 1/2 Stars – TOP PICK!
"Having the Tycoon's Baby is the debut book from Anna DePalo. The story was full of emotion, yet had wonderful moments of light-heartedness as well with Liz and Quentin sharing many hilarious one-liners. . . . When the miserably hot days of August call for a low-level of activity, pick up a copy of this book and get swept into a world of romance." – Writers Unlimited

"HELLO, PRINCESS."
She was a grown woman and a successful prosecutor, yet Connor Rafferty's raffish greeting made Allison Whittaker feel like that privileged teen he'd hauled from a blue-collar bar years before. It seemed that her family had employed the security tycoon's services to safeguard her from recent death threats. Well, she could take care of herself.
It was his kiss she could hardly handle.
His barely restrained ardor should have been her warning never to let him move into her home, mere footsteps from her bedroom. After all, he'd featured prominently in her fantasies, even though he'd resisted being anything other than brotherly toward her. Until now. When neither of them could afford to be distracted . . . .
"4 1/2 stars! Under the Tycoon's Protection is a wonderfully delightful book of two people at odds with each other where passion and anger are only a breath a part. Anna DePalo writes with a style sure to delight the reader. . . . With sparks flying every which way, this one will keep your interest to see which spark ignites. You won't want to miss the awesome ride this one give you." – Debby Guyette, Cataromance.com
"The tension between Allison and Connor in UNDER THE TYCOON'S PROTECTION is thick enough to cut with a knife . . . . Their sparring is amusing at times and always heated . . . . An engaging story, UNDER THE TYCOON'S PROTECTION may have readers wishing for a bodyguard of their own." – Jennifer Bishop, Romance Reviews Today
"Anna DePalo's wonderful Under the Tycoon's Protection (4 stars) is filled with mystery, suspense and enough heat to curl the pages." – Romantic Times


HAS THE PLAYBOY TYCOON MET HIS MATCH? by Sybil LaBreck
Clearly gossip columnist Kayla Jones, a.k.a. Ms. Rumor-Has-It, can't stand Noah Whittaker's type: old money, charming and rarely without a beauty on his arm. The only thing he's good for is juicy fodder for her column. But I heard he's about to get even! He'll give her the biggest scoop of the season, which could promote her to big-time reporter, if she'll dig a little deeper and get to know the real him. But can she keep her emotional distance from a man famous for being a master of seduction?
"Anna DePalo never disappoints her readers. Be sure to take in Noah and Kayla's story." Debby Guyette, CataRomance.com
Tycoon Takes Revenge is a "definite must-read!" 4 1/2 Stars! – Angela Keck, Romantic Times
"This is my first Anna DePalo novel, but definitely won't be my last, as her intriguing characters and well-written prose make her an author to watch.. Readers won't want to miss TYCOON TAKES REVENGE." – Patti Fischer, Romance Reviews Today
Tycoon Takes Revenge . . . "is a delightfully entertaining and witty story." 4 1/2 Stars! – Romantic Times


BOSTON'S MOST ELIGIBLE BACHELOR
He was the most-sought-after male in town and he wanted Lauren Fletcher to find him a wife. Matchmaking was Lauren's business, but she'd never thought Matt Whittaker—gorgeous, rich and powerful—would need her type of help. Yet the tycoon insisted only Lauren could get him the woman he wanted.
After spending several days—and nights—together, Lauren soon suspected that not just any woman was going to fulfill Matt's needs. Perhaps the only woman able to capture the tycoon's heart was the matchmaker herself!
4 stars! "[A] classy and sexy stroll into romance." – Pat Cooper, Romantic Times
"[A]n enchanting tale.... If there are any more men like Matt Whittaker out there, I'll take one.... Run, don't walk, to the nearest store and pick up your copy." – Patti Fischer, Romance Reviews Today
Standalone Books

721 PARK AVENUE: Penthouse B
TENANT: Gage Lattimer, dark and dangerous?
SCANDAL: He'll never tell…
A rich, powerful loner, Gage fit the description of the man who may have information about the mysterious demise of Jacinda Endicott's sister. Which was why Jacinda had abandoned her old life and taken a job at Gage's penthouse as his live-in maid, posing as Jane Elliott. By day, she snooped for clues about her employer; by night, she fought her fatal attraction to the sexy, secretive billionaire. Her heart told her Gage was innocent; her head warned her otherwise.
Which would she listen to?
"Desire at its best.... Great job!!" – Debby Guyette, CataRomance.com
"[A]n engaging tale that's filled with a little suspense and enough passion-filled scenes to have readers wanting to reach for an ice-filled drink." – Patti Fischer, Romance Reviews Today
"[A] lusty...story laden with sharp dialogue and appealing characters." – Pat Cooper, Romantic Times

Don't deceive a man with money.
The Miami Millionaire could have any woman--but Stephen Garrison intended to have newly returned Megan Simmons. She ended their sizzling affair years ago.... leaving without explanation.... leaving Stephen determined to seek his revenge.
But his plan to seduce his ex-lover, was met with an unexpected discovery: she'd had his child. And now it was no longer enough to seduce Megan back into his bed. Stephen had decided marriage would be the ultimate payback.
"Millionaire's Wedding Revenge is a sweet and passionate tale." – Pat Cooper, Romantic Times

Millionaire of the Month: Ryan Sperling
Source of Fortune: Silicon Valley
Goal: The Ultimate Revenge

Business mogel Ryan Sperling prided himself on being different from his old man, a self-centered philanderer who had let the family assets dwindle. Now as Ryan closed in on his greatest achievement—orchestrating his father's downfall—the charismatic bachelor had encountered an unforgettable woman...with inextricable ties to his family. It was unthinkable to fall for the daughter of his father's mistress. But it was impossible to walk away before he could taste her....
"[A]n emotional tale that will tug at the heartstrings.... You won't want to miss [it]. Pick up your copy of AN IMPROPER AFFAIR today." – Patti Fischer, Romance Reviews Today
"Anna DePalo's turn at the Millionaire of the Month series...is great, throwing together the emotionally damaged children of two selfish people." – Pat Cooper, Romantic Times

THE SCANDALOUS HEIRESS
No-nonsense heiress Summer Elliott had a five-year plan…and nailing a coveted interview with bad-boy rock star Zeke Woodlow was part of it.  Sleeping with Zeke was not.  But when she posed as her flirtatious, flamboyant twin, she couldn't resist and kissed her carefully-kept virginity goodbye!
Her clandestine affair would have gone undetected…if the tabloids hadn't exposed the truth.  Now Summer had a lot of explaining to do--to Zeke, to her sister, to her no-nonsense family.  And then there was the little matter of her fiancé…. 
THE ELLIOTTS: MIXING BUSINESS WITH PLEASURE
Blue ribbon rating: 4.5!   "Cause for Scandal is an awesome book with plenty of action to keep the reader entertained.... Anna DePalo has penned an excellent book that readers are sure to put on the keeper shelf." – Angel Brewer, RomanceJunkies.com
"I have never read a book by Anna DePalo that disappointed me. Cause for Scandal is so wonderfully romantic that you can't help but sigh and wish it was you. Zeke and Summer are so well developed that you can easily put yourself in their place and feel all their emotions. A part of the series about the Elliott family, Cause for Scandal establishes a level of excellence that should make this series one of the best. Kudos to Anna DePalo for bringing some of the best romance to life." – Debby Guyette, Cataromance.com
"[An] engaging, sexy romp . . . when parallel ambitions ignite a fire between two people who have nothing—and everything—in common." – Pat Cooper, Romantic Times


The Baby Proposition
Sexy CEO Griffin Slater wanted the boss's daughter. He'd made love to Eva Tremont in his mind countless times, but now he was determined to marry her. And he had a secret weapon to persuade her...
Griffin's proposal was outrageous; it was shocking; it was...tempting. The man she'd kept at arm's length for so long promised to make her baby dreams a reality, to give her unimaginable pleasure. But would marrying Griffin be too high a price to pay?
"[S]teamy and charming...." Pat Cooper, Romantic Times
"I can predict [readers] won't want to set it down." - Patti Fischer, Romance Reviews Today